About us
We have one of the largest archive document storage and records management facilities in the South West of England and have significantly invested in developing a unique storage concept at our ALLSTORE premises near Truro, to bring you 'Securafile Safe Cabinets' a specifically designed storage system for businesses looking for secure and safe document, file and record storage.
The founder of the company has worked within the document storage industry for a considerable number of years and during this period managed class A1 documents and data for 'Chase Manhattan Bank' and prior to this engagement organized ground handling of important and sensitive documents for Heads of many European States.
As a company we are at all times focused on developing a long term business relationship with a dedication to provide a professional customer service that supports our clients every step of the way. Our commitment to detail continues to seperate us from our competitors.
Benefits
Our Document and Records Storage Services provide a highly secure, low-cost solution for all types of business records. Off-site storage also helps clients free up valuable commercial space as well as assisting the staff managing their archive records.
The document storage service helps protect against legal risks and assist management with compliant regulations.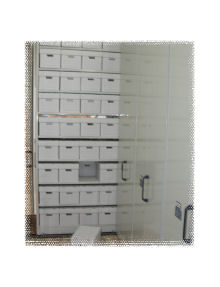 The use of our services will provide a business partnership which extends your archive records department, offering you a fully integrated document management package for the process of secure digital document scanning and confidential document destruction.
Designed to meet the most stringent industry standards for the safeguarding of records
Protect against legal risks
We help to keep you compliant when it comes to legal necessity
Off-site document storage becomes an extension of your records department
Secure vital assets
Build trust and confidence with your clients
Attend to the whole life cycle of your documents
Part of an integrated document management system that includes scanning and shredding all completed on the same site
Our onsite team of dedicated staff provide free help, advice & support when you need it
We provide peace of mind
Arranging storage for your company documents couldn't be easier - In many cases we can make arrangements over the telephone, allowing you to get on with managing your business.